Custom covers, mats, expansion joints for exhausts, pipes and engines
Here at Bellis we are experts at custom insulation products, especially where they need to be removed for inspection or maintenance.  We have been doing it for 30 years so 
get in touch
 for your exhaust systems, pipework fittings, marine applications and aerospace applications.
Once we have the dimensions for what you need to be insulated, we can fabricate and manufacture a custom product to meet your need.
Nothing has changed since 2016 when this blog was first posted, so if you missed it the first time around here it is again in full.
Removable mats
Removable covers offer insulation to intricate applications, where a typical pipe insulation system is not appropriate.  With a technical understanding of the insulation application, we can recommend the right insulation system that will allow access where appropriate, without sacrificing thermal or acoustic performance.
We also offer measuring services if you want one of our fabrication experts to visit and measure your gen sets, forklift, exhaust cover or engine.  We can also install the completed cover on site for you.
The way we manufacture our covers is in a way to make them easy to remove for maintenance or access.
Options are available for hook and loop fastening or fastening with stainless steel pins or springs
Fabric Expansion Joints and Bellows
Fabric Expansion joints are used to cater for changes in dimensions in ducts when installed due to an expansion or contraction from changes in temperature.  Sources of this thermal change can come from either the item itself, or from external temperature fluctuations.  Metal, rubber, or fabric expansion joints can be used, but this will depend on what thermal requirements you have for your application.
Belt type expansion joints
Belt type expansion joint profile is parallelly mounted to the plane of the duct.
Integrally flange type expansion joints
Integrally flange expansion joint profile has its flanges perpendicular to the plane of the duct
Flow liner or baffle expansion joints
Baffles are recommended for positive flue gas systems with flush mount composite designs to improve the life of the expansion joint. A single flow liner is used in negative systems to avoid the joint from being dragged into the flow and failing prematurely due to flutter and erosion
Insulation pillow expansion joint
The Cavity Pillow helps prevent accumulation of particulate matter and, in some applications, unburned fuel from becoming trapped in the expansion joint cavity by filling the cavity between the flexible element and the metal liner or baffle. If there is no cavity pillow, large amounts of fly ash or other solid particles can accumulate in the expansion joint cavity, causing damage to the flexible element if they solidify to a cementitious state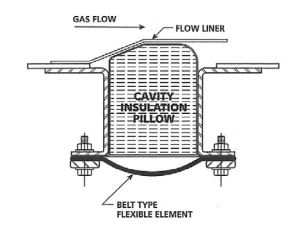 Rubber Expansion Joints and Bellows
Because of its high-pressure capacity and stability, rubber expansion bellows can be utilized for both suction and delivery. Rubber Expansion Joints are used as connectors to join vessels that operate at temperatures ranging up to 115°C.
If you require an expansion joint for bellows or other soft items, we can also manufacture fabric expansion joints and seals.  These will offer the same resilience to movement provided by rubber, fabric, or soft material applications.
We have the capability to manufacture custom fabric expansion joints or supply metal expansion joints.  These are ideal for high temperature duct applications, or pipework.  The use of different industrial fabrics will change depending on the application.  We can use different insulating products  based on the application and heat transfer requirements.
Our vast experience in the fabrication and manufacturing of expansion joints means that Bellis is qualified to supply expansion joints for your application.  Our in house industrial sewing staff can also offer advice on how to achieve the desired results for your expansion joints' performance.
When specifying fabric expansion joints, important factors to include are:
Operating Temperatures
lineal and axial movements requirement
gas composition
operating pressure
Get in touch with us if you need more information about our custom mats and covers and expansion joints!